Home
Get Fast Electronics Repair Service Here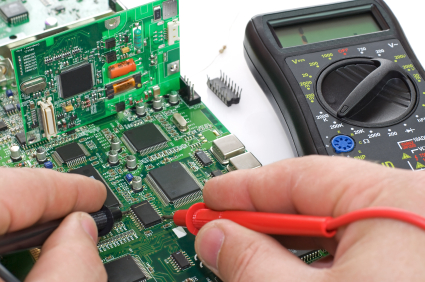 | | |
| --- | --- |
| | Do You Have Damaged Or Broken Electronic Equipment? |
| | Would You Like Quick Repairs At A Fair Price? |
| | ACS Can Fix Your Item(s) And Get Them Back To You Fast! |
ACS Industrial Services is a mid-size, third-party industrial electronics repair company with locations in Hunt Valley, Maryland (Headquarters) and Hickory, North Carolina. We provide expert repair services for virtually all types of commercial and industrial electronics. Our customers range from Fortune 500 companies to small, sole proprietors. We welcome international customers ... more
Click the button above to get a free evaluation
If you're considering whether to repair your electronic equipment then choose ACS and let us give you a free evaluation and quote.
ACS can save you 50% to 85% the cost of a new one. See Pricing.
Most repairs are back in your hands in 7-15 days, with our Priority Service shipping in just 2-5 days
We Guarantee Our Work With A Full Two-Year Warranty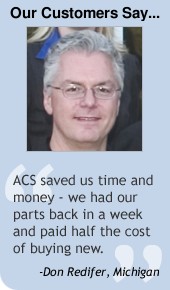 Manufacturing equipment is getting more expensive every day and most industrial electronic items are repaired at ACS for a fraction of replacement cost. Instead of throwing away that damaged circuit board, power supply, monitor, servo motor, drive, PLC, etc., ... Send it to us for a free evaluation and price quote.
Please use the list of service links to the left for information on specific service categories OR enter you part name/number here:
and hit enter to search our database for your item.
We Service Most Brands
ACS repairs most makes and models of industrial equipment. If you do not see the manufacturer of your equipment in our LIST OF OEM MANUFACTURERS, don't worry. We can probably repair your item. Call to speak to one of our electronics repair customer service reps for help, 1-800-605-6419, email at service@acsindustrial.com, or use our Contact Page.
How Much Will It Cost?
Our prices are very competitive, BUT, and this is a big "BUT" ... our service quality & warranty policy are the best available. We will not take short cuts on your job. Most repairs prices save you 50%-85% of what it will cost to buy a new one. See a more detailed pricing explanation at our Repair Pricing page.
Get Your Gear Fixed & Returned To You Fast
Standard repairs are usually returned 7-15 days after you approve the job. Our RUSH Priority Repair Service is for those situations where you need it back yesterday and is available upon request. A Rush evaluation is usually back to you in less than 48 hours and we ship most completed Rush Jobs 2-5 days after you say "GO".
ACS - Total Commitment To Quality Service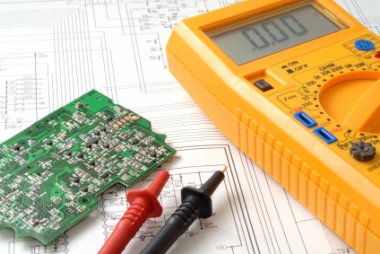 Quality repairs are the top priority at ACS and we stand behind our work with a rock solid warranty.
At ACS Industrial, we do extensive component level repairs, replacing bad components, touching up solder traces and nodes as well as testing ICs, EPROMs, PALs, GALs, surface mounted components and more. Active and reactive components are static tested. Each item is subjected to dynamic function tests to verify success.
Single sided, double sided, and conventional circuit boards are serviced in our advanced repair facilities. Most conformal coating can be removed and re-applied when the repair is finished.
At ACS Communication Is High Priority.
An assigned service coordinator will stay on top of your project from the evaluation phase through the return delivery of your repaired item.

Join Our Many Satisfied Customers
ACS has many Satisfied Customers ranging from international Fortune 500 manufacturing companies to one person CNC shops. We treat each customer's equipment as if it were our own, regardless of their size. These satisfied customers have been coming to ACS for more than 11 years to get their equipment repaired by our team of experienced techs.
Experienced Professionals
Call now to speak with one of our electronics repair customer service reps to find out how ACS will help get your equipment back into operation fast! (see Priority Service ) 1-800-605-6419 or email.
For A Free Evaluation & Repair Quote,
Click the Repair Form Button.
We invite you to use the Service Hot-Links on the upper left to explore our capabilities and discover why so many industrial customers use ACS Industrial for all their electronics repair needs.
Power Supplies, PLCs, Drives, Printed Circuit Boards, Monitors, Servos, Controls, Test Equipment and more
Damaged equipment is often critical to our customers so ACS will service your item(s) quickly and accurately. If you need power supply, circuit board, servo, AC drive, DC drive, CRT, LCD, or touch screen monitor repair services - Call Us now. Contact us at, 1-800-605-6419 or email. Timely, professional, and cost sensitive repair solutions get your electronic equipment back up and running fast.
All types of industrial electronics are repaired by ACS including:
Machine Tool (CNC) Controls
High Voltage Power Supplies
Low Voltage Power Supplies
Switching Power Supplies
Linear & Laboratory Power Supplies
Printed Circuit Boards
CNC Boards
LCD & CRT & Touch Screen Monitors
Operator Control Stations
Lab Instrumentation

Servo Controls
Servo Motors
Spindle Motors
Spindle Drives
AC Drives
DC Drives
VFD Drives
PLC's
Temperature Controllers
Process Controllers
Fast Service For All Major Brands
Get Expert Service for all major brands. For an extensive listing of the major OEM manufacturers we service, see our LIST OF OEM MANUFACTURERS. Call ACS even if you do not see your manufacturer listed. This list is dynamic - and we can still probably service your item, so call and ask.
Call now for FREE evaluation
Call now for answers to your electronics repair questions or to arrange a free evaluation of your electronic components. Get fast, quality service by calling 1-800-605-6419. We are standing by to help.