Expert Power Supply & Inverter Repair Services
| | |
| --- | --- |
| | ACS Repairs Most Power Supply & Inverter Manufacturers |
| | Fast Repairs and Competitive Pricing |
| | Full Two Year Warranty Covers Your Repair - Parts & Labor! |
Save Time & Money with Expert Power Supply Repairs
If you're considering whether to repair your Power Supply or Inverter then choose ACS and let us give you a free evaluation and repair quote. You may be surprised by how much money you can save and how fast ACS can service and return your item.
ACS can save you up to 80% the cost of a new one
Most items are back in your hands in 5-15 days, with our RUSH Service shipping - 2-5 days after approval
We Stand Behind Our Repairs With A Full Two-Year Warranty
It's EASY ...
>
All you pay is shipping.

>
No Estimates - No Surprises ...
We take pride in our Accurate Quotes.

>
Replace or Repair? Why Guess ...
Send us your item & then decide.

Can Power Supplies and Inverters Be Repaired? Yes They Can!
At ACS, Power Supply and Inverter Repairs cost a fraction of what you would pay for a brand new one.
So, Before You Throw It Away or spend too much for a new one ...
Let our technicians provide a free evaluation and a price quote to repair your damaged equipment. Click here to Get a Free Evaluation.
How Much Will It Cost?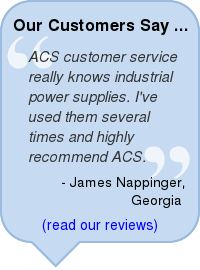 Our prices are very competitive with the industrial repair services market. In addition, our repair quality is top of the line - we keep an experienced and well-trained technical staff and stand behind our work. See a more detailed pricing explanation at the Power Supply and Inverter Repair Pricing page.
How Long Will It Take To Get A Quote?
It usually takes 24-36 hours to evaluate most power supplies and inverters for repair unless you need Rush Service. Rush jobs are usually quoted 24 hours or less after we receive the items. Click ACS Rush Service for Rush Service details.
How Long Will It Take To Fix And Ship My Damaged Item?
Standard priority usually ships 5-15 days after you approve the job. Rush jobs are usually shipped 5 working days or less after approval. Many Rush Repairs can be completed in as little as 48 Hours. Click Free Evaluation Form to send your power supply or inverter to ACS.
Is There A Warranty? Yes!
Each repair is covered by a Two-Year comprehensive warranty unless otherwise stated on your quote. See Warranty Details.
For A Free Evaluation & Repair Quote,
Click the Repair Form Button.
Supported Manufacturers.
The following is a list of the more common power supply and inverter manufacturers we service. If your manufacturer is not shown, check the expanded list of supported manufacturers.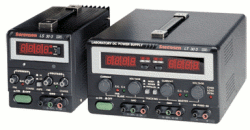 The Xantrex L Series Power Supply,
one of the many brands we service.
There are many different types of power supplies and inverters and at ACS we fix almost every one of them. Examples Are listed below ...
High Voltage Power Supplies.
Low Voltage Power Supplies.
Linear Power Supplies.
Switching Power Supplies.
DC Power Supplies.
Inverters.
Regulated Power Supplies and more.
Call Now To Speak To One Of Our Customer Service Reps, 800-605-6419, Or Send Your Damaged Item To ACS For A Free Evaluation Today! Click Here For Our Free Evaluation Repair Form, ACS Repair Form.
Footnote: