Industrial Circuit Board Repair Services
| | |
| --- | --- |
| | Is Your Industrial Circuit Board Damaged or Malfunctioning? |
| | Would You Like Quick Repairs At A Fair Price? |
| | ACS Can Repair And Return Them To You Fast! |
Save Time & Money with Expert Circuit Board Repairs
You can send your damaged Circuit Board to ACS today for a free evaluation and repair quote.
ACS repairs most brands, at savings up to 80% of the cost to purchase new
Most repairs are back in your hands in 7-15 days, with our Rush Repair Service shipping in just 2-5 days
We Guarantee Our Repairs With A Full Two-Year Warranty
It's EASY ...
>
All you pay is shipping.

>
No Estimates - No Surprises ...
We take pride in our Accurate Quotes.

>
Replace or Repair? Why Guess ...
Send us your item & then decide.

Repair Instead of Replace – Evaluations Are Free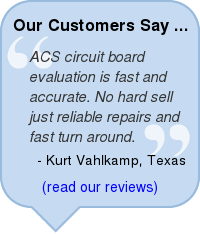 Printed Circuit Boards are getting more expensive every day and most are repaired at ACS for a fraction of replacement cost. Instead of throwing that damaged board away... Send it to us for a free evaluation and price quote for repair. Click here to Get a Free Evaluation For Your Damaged Item.
We Service All Types
If you need printed circuit board services or repair, speed control board repair, power feed board repair, etc, ACS can get it fixed fast.
We Service Most Brands
ACS repairs most makes and models of circuit boards. If you do not see your manufacturer in our LIST OF OEM MANUFACTURERS, don't worry. We can probably repair your item. Call to speak to one of our customer service reps for help, 800-605-6419, email at service@acsindustrial.com, or use our Contact Page.
How Much Will It Cost?
Our prices are very competitive with the rest of the repair industry, BUT, and this is a big "BUT" ... our repair quality & warranty policy are one of the best available. We will not skimp or take short cuts on your job. See a more detailed pricing explanation at our Repair Pricing page.
Get Your Equipment Back Into Operation Fast
ACS can get your equipment repaired and back into operation fast. Our Rush Repair Service is for those situations where you need it back yesterday and is available upon request. A Rush evaluation is usually back to you in less than 48 hours and we ship most completed Rush Repair Jobs less than 5 days after you say "GO".
We Offer Expert Service
Quality repairs are the top priority at ACS and we stand behind our work with a rock solid warranty.
Most service companies do not perform "component level repairs" on damaged circuit boards. They plug-and-play, using circuit boards as fuses and that is NOT the way to solve a problem. At ACS Industrial, we do extensive component level repairs, replacing bad components, touching up solder traces and nodes as well as testing ICs, EPROMs, PALs, GALs, surface mounted components and more.
Single sided an double sided boards are serviced in our advanced repair facilities. Most conformal coating can be removed and re-applied when the repair is finished.
For A Free Evaluation & Repair Quote,
Click the Repair Form Button.
ACS provides superior solutions for Industrial Circuit Board Repair problems. Our customer service reps are standing by to take your calls and answer any questions you may have, 800-605-6419. Thank you for your business. ACS Industrial Services