Industrial
LCD & CRT Monitor Repairs
Industrial
LCD & CRT Monitor Repairs
The repair of Industrial LCD & CRT Monitor Repairs is a core area that ACS has serviced for two decades. We have a depth of expertise in repairing CRT, LCD, and Touch Screen monitors and support all popular models. Legacy industrial CRTs are becoming difficult to repair reliably due to no longer manufactured components such as cathode ray tubes and flyback transformers. BUT, that doesn't mean you don't have options! Our CRT retrofit to LCD service may be the best option for your CRT. Our helpful customer service team can answer your questions! See the list below of manufacturers we support.
Save Money with
Expert Industrial Monitor Repairs
Before you purchase a new replacement LCD / CRT Industrial Monitor, you might consider sending to ACS for a free evaluation and repair quote.
You can get it repaired and save up to 80% of the cost to buy a new one
Most repairs are back in your hands in 7-15 days. With our Rush Repair
Service ACS can ship in just 2-5 days.
We Guarantee Our Repairs With A Full Two-Year Warranty .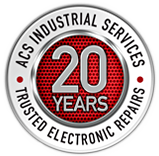 Get a FREE Evaluation & No Obligation Repair Quote
Replace or Repair? Why Guess...
Send us your item and then decide.
Supported Manufacturers (partial list)
The following is a list of the manufacturers we service and repair. If your manufacturer is not shown here, it is very likely we can be of assistance. Just contact us for more information using our Contact page, or call 800-605-6419
If you do not see your LCD & CRT Monitor Repair manufacturer on this list, search by your manufacturer name and/or part number.

We send all of our damaged monitors to ACS. They stand behind every repair. If you're in a rush try the Rush Repair Service, it's great!
Tony Lagos
California