Servo Drive Repair Service
Servo Drive Repair Service
ACS is an industry leader in servo drive repair services with the latest diagnostic repair equipment and dedicated test stands for most brands. We repair all types of servo drives from most manufacturers.


Save Money with
Drive Repair Service
If you're considering whether to repair your Servo Motor then choose ACS and let us give you a free evaluation and repair quote.

Repair usually saves up to 80% the cost of buying a new drive
Most repairs are back in your hands in 7-15 days after approval.
Our Rush Repair Service ships in just 2-5 days after approval.
We Guarantee Our Repairs With A Full Two-Year Warranty .
How much will It cost to repair my drive? Our prices are very competitive. See our Servo-Drive Repair pricing structure.

Yaskawa SDGH Sigma II Servo Drive, one of the many brands we service.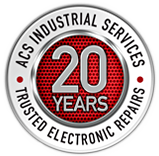 Get a FREE Evaluation & No Obligation Repair Quote
No Estimates-No Surprises...
Accurate Quote in 24-48 hours.
Replace or Repair? Why Guess...
Send us your item and then decide.
Supported Manufacturers (partial list)
The following is a list of the manufacturers we service and repair. If your manufacturer is not shown here, it is very likely we can be of assistance. Just contact us for more information using our Contact page, or call 800-605-6419
If you do not see your Servo Drive Repair manufacturer on this list, search by your manufacturer name and/or part number.

We needed 2 Yaskawa drives repaired ASAP. ACS Rush Repair came through, we had the drives back in 9 days. Thanks ACS!
Brian Lounsbury
Florida

Yes They Are. Most Servo Drives Are Repaired At ACS For Much Less Than A New One Will Cost.
We offer Free evaluations and fast turn-around of your Servo-Drive repairs. All drive repairs are evaluated, repaired, load tested and returned in perfect working order.
RUSH - Rush Repair Service is available upon request.
Every repair is covered by a comprehensive two-year warranty unless otherwise stated.
If you have any questions or need additional information, please contact us at 800-605-6419 or click the following link to access our free evaluation repair form, ACS Servo Drive Repair Form.