Expert HMI Operator Terminal Repair Services
Industrial HMI Operator Terminal Repair Services
HMI Operator Terminal Repair Services are a core area that ACS has serviced for two decades. We have a depth of expertise in repairing HMI devices and support all popular models. See the list below of manufacturers we support.


Save Money with
Expert HMI Repairs
Why replace your damaged HMI/Operator Machine Interface when you can repair it for much less? We repair most HMI devices including panels, screens, touch screens, displays, controllers, etc.

ACS repairs most brands at savings up to 80% of the cost to purchase new
Do You Need Fast turn-around? Standard repairs ship
1-2 weeks after approval, Rush jobs ship 2-5 days after approval.
We Guarantee Our Repairs With A Full Two-Year Warranty .

Siemens-Simatic Touch Screen HMI; Siemens is one of the many HMI brands we service.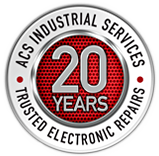 Get a FREE Evaluation & No Obligation Repair Quote
No Estimates-No Surprises...
Accurate Quote in 24-48 hours.
Replace or Repair? Why Guess...
Send us your item and then decide.
Supported Manufacturers (partial list)
The following is a list of the manufacturers we service and repair. If your manufacturer is not shown here, it is very likely we can be of assistance. Just contact us for more information using our Contact page, or call 800-605-6419
If you do not see your HMI Terminal Repair manufacturer on this list, search by your manufacturer name and/or part number.

The ACS free evalution policy is great. Their quotes are fast and accurate. We now repair with ACS whenever possible.
Brian Stanton
Nevada

We offer Free evaluations and fast turn-around of your HMI/Operator interface repairs including retrofits.
24-48 hour Rush Repair Service is available upon request.
We service most HMI manufacturers. Call to speak to one of our customer service team members for help.
In addition, we warranty each repaired HMI/Operator Interface Component for a period of two years, unless otherwise stated.
Conventional, SMD's, CNC, Relay Logic, Surface Mount, and other circuit board construction methods are repaired and serviced by experienced technicians.
If you have any questions or need more information, please contact us at 800-605-6419.
Our knowledgeable and helpful customer service team is waiting to answer your questions and provide professional electronic repair solutions. Please contact us at
800-605-6419
. Or click here for our free evaluation repair form,
ACS Repair Form
.