Electronic Repair Pricing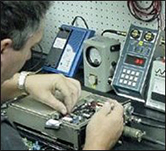 This is one of the most frequently asked questions. It is also one of the most important questions. But...it is one of the hardest questions to answer if we have not seen your damaged item.
Why We Evaluate Before We Quote
The cost to repair your damaged item can vary greatly based on a number of factors including: complexity of the electronic item; extent of damage; cost and availability of key components that might need to be replaced; whether there have been previous repair attempts; and the overall condition and cleanliness of the repair item (extremely dirty equipment requires a significant cleaning effort before a repair can even be attempted).
An evaluation does not necessarily determine the root cause or extent of failure. It is the ACS process of ensuring that we assess the risk factors in undertaking a repair job. This allows us to offer you the best price possible. Our goal is to get your item back fast, in perfect order with win/win pricing for the repair!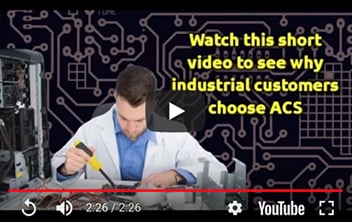 ---

I just wanted to shoot you a line and tell you how grateful we are here at the Cylinder Division for the service you and your company provided to us. You guys were unbelievably professional and it was a pleasure doing business with all of you. I hope to get to work with you again in the future.


Jeremy J.
Maint. Module Leader
Cylinder Division
Bloomington IL
No "Flat Fees"
This is why ACS does free evaluations. We base your repair price on the evidence of damage on your items and how much work our techs estimate it will take to make the repairs needed. Many other repair services just determine the cost of a new one and then quote a repair price of 50% to 70% the cost of new.
Repair Cost versus Replacement Cost
Every now and then, we do get an item that approaches the 50% cost of new to repair, but the majority are not that high so you don't have to pay excessive repair charges. To come up with a rough estimate of what your repair cost range may be, consider 15% to 50% the cost of replacement, however, your repair price from ACS will be determined when we do a physical examination and then you will get a written quote to approve.

Remember, there is no charge for us to evaluate your item and provide a quote for repair. Just click the following link to reach the repair form needed to send your damaged item to us for evaluation, ACS Repair Form. And, you can always call us with questions or to discuss your damaged items, 800-605-6419.

Please Note: At ACS, the repair evaluation and repair quote is FREE. Once approved, there is a minimum repair charge of $310 for each item we repair.


We look forward to working with you,

The ACS Service Team
Shipping Fees: ACS looks forward to providing an evaluation for repair at no charge. However, the shipping to and from the ACS facility is the customer's responsibility.