Industrial
Encoder and Resolver Repair Service
Industrial Encoder and Resolver Repair Service
Industrial Encoder and Resolver Repair Service is a core area that ACS has serviced for two decades. We have a depth of expertise in repairing Encoders and Resolvers and support all popular models. See the list below of manufacturers we support.


Save Money with
Encoder and Resolver Repair Service
Deciding whether to replace or repair is an important business decision. If you're trying to decide whether to repair or replace your Encoder or Resolver, why not let us give you a free, no obligation evaluation and repair quote so that you can make an informed decision? ACS can evaluate your Encoders and Resolvers fast!


Heidenhain ECN/EQN/ERN 400 Series Rotary Encoder. We service most Heidenhain models.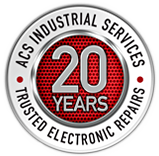 Get a FREE Evaluation & No Obligation Repair Quote
No Estimates-No Surprises...
Accurate Quote in 24-48 hours.
Replace or Repair? Why Guess...
Send us your item and then decide.
Supported Manufacturers (partial list)
The following is a list of the manufacturers we service and repair. If your manufacturer is not shown here, it is very likely we can be of assistance. Just contact us for more information using our Contact page, or call 800-605-6419
If you do not see your Encoder Repair manufacturer on this list, search by your manufacturer name and/or part number.

ACS repaired several of our rotary encoders. We are very happy with their service and support, I strongly recommend ACS.
Edna Wallech
Maryland

ACS performs encoder and resolver repairs for just about every brand and type of encoder or resolver manufactured: Rotary encoders, Serial encoders, Parallel encoders, Linear encoders, Incremental encoders, Optical encoders, Magnetic encoders, Brushless resolvers, Multi-Speed resolvers, and more.


We use advanced test procedures and equipment to pinpoint faults in logic and analogue circuitry. As needed, the following services are performed as part of ACS encoder and resolver repairs:
Output repair and calibration
Bearing replacement
Connector repair or replacement
Shaft repair or replacement
Optical component repair or replacement
Optical test and alignment
Encoders and Resolvers are thoroughly cleaned and solder de-fluxed
ACS fully tests the following to verify complete encoder or resolver repair and correct operation:
Critical waveform characteristics including pulse count per revolution, pulse shape, jitter measurements and power consumption.
All channel outputs
Initiate all incremental TTL outputs.
Shaft and signal speed
Initiate pulse, and digital modulation outputs
Commutation output
Quadrature signals
Verify high-resolution incremental signals and more.