Expert
Spindle, AC, DC & VFD Drive Repair Services
Industrial
Drive Repairs AC / DC / VFD / Servo / Stepper & Spindle
Deciding whether to replace or repair is an important business decision. If you're trying to decide whether to repair or replace your Drive, why not let us give you a free, no obligation evaluation and repair quote so that you can make an informed decision? ACS can evaluate your AC/DC/VFD/Servo/Stepper or Spindle Drive fast!


Save Money with
Industrial Drive Repairs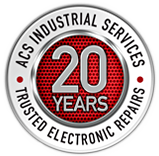 Get a FREE Evaluation & No Obligation Repair Quote
No Estimates-No Surprises...
Accurate Quote in 24-48 hours.
Replace or Repair? Why Guess...
Send us your item and then decide.
Supported Manufacturers (partial list)
The following is a list of the manufacturers we service and repair. If your manufacturer is not shown here, it is very likely we can be of assistance. Just contact us for more information using our Contact page, or call 800-605-6419
If you do not see your AC, DC, VFD Drive Repair manufacturer on this list, search by your manufacturer name and/or part number.

When we need fast equipment repairs we depend on ACS. We've been using ACS for over 2 years and we're very happy.
Mark Doggett
Texas

Drives are evaluated for both physical and electronic damage.
Units are disassembled and cleaned.
We don't just repair, we refurbish your Drive.
Repairs have QC and Load Testing.
Drives are foam-in-place packed for a safe return to you.
If you still have questions or need additional information, please contact us at
800-605-6419
.