Expert Telecom Equipment Repair Services
Telecom Equipment Repair Services
Telecom Equipment Repair Services is a core area that ACS has serviced for two decades. We have a depth of expertise in repairing all types and models of telecommunications equipment, including legacy and out of warranty models.


Save Money with
Expert Telecom Equipment Repair Services
If you're considering whether to repair your damaged Telecom Electronics, then choose ACS and let us give you a free evaluation and repair quote.

ACS repairs most brands, at savings up to 80% of the cost to purchase new
Most repairs are back in your hands in 7-15 days, with our Rush Repair Service shipping in just 2-5 days
We Guarantee Our Repairs With A Full Two-Year Warranty

Nortel Helios Rectifiers. One of many brands and models we service.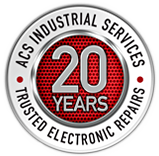 Get a FREE Evaluation & No Obligation Repair Quote
No Estimates-No Surprises...
Accurate Quote in 24-48 hours.
Replace or Repair? Why Guess...
Send us your item and then decide.
ACS Industrial Services repairs Telecommunications Circuit Boards, Modules, Power Supplies, Switches, Switch Components, UPS systems, Rectifiers, Inverters, and more. Our full-time dedicated repair technicians are experienced in all facets of telecommunications electronics and provide reliable and thoroughly tested repairs. We also repair legacy and out of warranty models!
Call to speak to one of our helpful customer service representatives. They will be happy to answer your questions and solve your electronic repair problems.
In a hurry? Priority Rush Service is available! See our Rush Repair Service for details. Call now, 800-605-6419. We are standing by to help.