AC & DC Servo Motor Repair Services
ACS provides expert repairs for the older AC Servo Motor, as well as the newer Brushless Servo Motor and DC Servo Motor products. See the technical repair details and list of brands we repair at the bottom of this page.


Save Money with
AC & DC Servo Motor Repair
If you're considering whether to repair your Servo Motor then choose ACS and let us give you a free evaluation and repair quote.

Repair saves up to 80% the cost to purchase a new motor
Most repairs are back in your hands in 7-15 days, with our Rush Repair
Service shipping in just 2-5 days.
Total Customer Satisfaction is the benchmark for everything we do.

Siemens 1FT7 Servo Motor Repair. We service most Siemens models.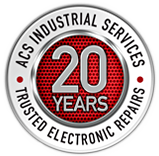 Get a FREE Evaluation & No Obligation Repair Quote
No Estimates-No Surprises...
Accurate Quote in 24-48 hours.
Replace or Repair? Why Guess...
Send us your item and then decide.
Supported Manufacturers (partial list)
The following is a list of the manufacturers we service and repair. If your manufacturer is not shown here, it is very likely we can be of assistance. Just contact us for more information using our Contact page, or call 800-605-6419
If you do not see your Servo Motor Repair manufacturer on this list, search by your manufacturer name and/or part number.

Our system experienced a critical servo motor failure. ACS repaired and returned the servo in just 7 days. Thanks ACS!
Jason Brooks
Ohio

Absolutely! Almost every Servo Motor can be repaired for a fraction of what it will cost to buy a new one. See our
Servo Motor Repair Pricing
for an explanation of repair cost. See the technical repair details and list of brands we repair at the above on this page.
Zero. That's right ... There is No Charge to evaluate your Servo Motors for repair. To get a free evaluation and RMA number, click
Servo Motor Repair Form
.
It usually takes 24-36 hours to evaluate most motors for repair unless you need Rush Service. Rush jobs are usually quoted 24 hours or less after we receive the items. Click
ACS Rush Service
for Rush Service details.
Standard repairs are usually shipped 7-14 days after they are approved. Rush repairs are usually shipped five working days or less after approval. Many rush repairs can be completed in as little as 48 Hours. Click
Servo Motor Repair Form
.
Each repair is covered by a Two-Year comprehensive warranty unless otherwise stated on your quote. See
Servo Motor Warranty Details
.
If you do not see the manufacturer of your Servo Motor above, in the Supported Manufacturers list, we can probably repair your damaged item.
ACS Industrial Services has been providing comprehensive AC & DC Servo Motor Repair and CNC & Spindle Motor Repair services for over ten years. We routinely repair domestic and foreign motors.
Get Premium repair service at very competitive prices at ACS. Friendly, efficient service is what makes us different.
ACS has custom-built test fixtures that enable us to perform in-depth initial back drive testing and critical alignment verification before disassembly. Then, we test the stator windings at full voltage and current, verifying breakdown condition under "real life" full load conditions. We record test data including, winding waveforms, feedback signals, reverse generated voltage readings, shaft and encoder alignment data. We use this data to guarantee everything needing service in your motor is repaired.
We test the magnet assemblies for proper torque output. If the magnets test bad or are broken, they are re-magnetized or replaced.
Our machining services will re-machine sleeve endbells, shafts, and motor housings as needed. Special bearings will be fabricated if replacements are not available from the OEM. Standard and exotic construction methods are serviced at ACS.
Repair evaluations are free with no obligation. We base your repair price on what is damaged on your servo motor and the work required to make the repairs needed. See our
Repair Pricing policy
.
Our highly trained techs are repairing servo-motors from just about every manufacturer with the latest test equipment every day. We also repair and replace bad encoders, resolvers, tachometers, and hall-effect devices if they are damaged, or need service.
One of our knowledgeable sales engineers is waiting to answer your questions and provide professional motor repair solutions. Please contact us at 800-605-6419. Or click here for our free evaluation repair form,
ACS Repair Form
.