Expert Industrial Electronics Repair Services
Industrial Electronics Repair
Receive the professional industrial electronic repair solutions you need from an experienced electronic repair shop. Our representatives are accessible and provide knowledgeable service. Get your industrial control repair completed right the first time when you contact ACS Industrial Services, Inc


Save Money with
Expert Industrial Electronic Repairs
If you're considering whether to repair your Industrial Electronics then choose ACS and let us give you a free evaluation and repair quote.

ACS repairs most brands, at savings up to 80% of the cost to purchase new
Most repairs are back in your hands in 7-15 days, with our Rush Repair Service
shipping in just 2-5 days
We Guarantee Our Repairs With A Full Two-Year Warranty period.
Quick and Free Evaluations, Professional Repair, Fast Turn-Around.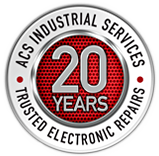 Get a FREE Evaluation & No Obligation Repair Quote
No Estimates-No Surprises...
Accurate Quote in 24-48 hours.
Replace or Repair? Why Guess...
Send us your item and then decide.
Supported Manufacturers
One of our knowledgeable sales engineers is waiting to answer your questions and provide professional electronic repair solutions. Please contact us at 800-605-6419. Or click here for our free evaluation repair form, ACS Repair Form
We've tried several industrial repair companies and found ACS to be the best. I'm a very happy customer.
Robert Nash
New York


Damaged Electronics are evaluated fast and at no charge. Quick repair of all industrial, commercial electronic components, including circuit boards, power supplies, logic boards, CNC boards, AC/DC drives, PLC's, process controls, and more will get your equipment back up and running in a short time.
Rush Repair Service is available for those emergency situations that demand immediate repair and return of an electronic item.
If you do not see the manufacturer of your industrial electronics in our LIST OF OEM MANUFACTURERS, don't worry. We repair many, many brands that are not listed. Call and speak to one of our electronic repair customer service reps for help.
Every repaired component is covered by our comprehensive 12 month warranty, unless otherwise stated.
Your damaged electronics are repaired professionally, then returned in original equipment and perfect operating condition. All types of electronics are repaired at ACS Industrial Services.