Expert Printed Circuit Board Repair Services
Printed Circuit Board (PCB) Repair Services
Please note:
Our expertise is in the repair of Industrial Electronics. We do not repair Consumer Electronics.
Industrial PCB Repair Services is a core area that ACS has serviced for two decades. We have a depth of expertise in repairing Conventional, SMD's, CNC, Relay Logic, Surface Mount, and other circuit board construction methods and support all popular models.


Save Money with
Expert Industrial Circuit Board Repairs
ACS offers expert Industrial Printed Circuit Board repair services. You can send your damaged Circuit Boards today for a free evaluation and repair quote.

Repair and save up to 80% of the cost to purchase new one
Most repairs are back in your hands in 7-15 days, with our
Rush Repair Service shipping in just 2-5 days
We Guarantee Our Repairs With A Full Two-Year Warranty.
Expert Industrial Printed Circuit Board Repair. Quick Evaluations, Fast Turn-Around.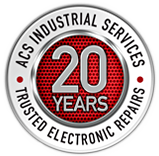 Get a FREE Evaluation & No Obligation Repair Quote
No Estimates-No Surprises...
Accurate Quote in 24-48 hours.
Replace or Repair? Why Guess...
Send us your item and then decide.

We had a critical board failure due to water damage. ACS was wonderful! The board was repaired and returned in 7 days. Thanks ACS!
Amy Summersgill
CA

ACS Industrial Services, Inc. provides expert Printed Circuit Board repairs to a wide range of commercial and industrial customers.
We offer Free evaluations and fast turn-around of your Printed Circuit Board repairs.
24-48 hour Rush Repair Service is available upon request.
If you do not see the manufacturer of your Printed Circuit Board in our LIST OF SUPPORTED MANUFACTURERS below, don't worry. We can probably repair your PLC. Call to speak to one of our electronic repair customer service reps for help.
We warranty each repaired circuit board for a period of two years, unless otherwise stated. That is two years on the Entire Printed Circuit Board, not just the repair!
Conventional, SMD's, CNC, Relay Logic, Surface Mount, and other circuit board construction methods are repaired and serviced by ACS Industrial Services, Inc.
If you have any questions or need additonal information, please contact us at 800-605-6419.
One of our knowledgeable sales engineers is waiting to answer your questions and provide professional electronic repair solutions. Please contact us at
800-605-6419
. Or click here for our free repair form,
ACS Repair Form
.